Available for $63.75 (a 15% discount to the regular $75 price) to investment advisors and financial planning professionals. Includes: (1) the 360 page, 8 1/2" by 11" comb-bound book with durable laminated covers and (2) many Microsoft Excel® and Word® templates to assist with selection of the best put and call writing opportunities, results tracking, tax recordkeeping and marketing the option writing services. No shipping and handling charges for delivery in the US. Please e-mail us for discounts that are available for multiple copy purchases.

PUT and CALL OPTION WRITING

ISBN NUMBER 0-9715514-7-2

LIBRARY OF CONGRESS NUMBER 2004095439

This book provides a complete education on the subjects of (1) covered call writing, (2) put option writing and (3) covered and uncovered put and call combination writing. A step-by-step implementation program is included for each. Using the Excel® software templates, you can begin writing put and call options for your own account and your clients' accounts. Marketing materials, including numerous Word® templates, also come with the book to help promote option writing to your clients and prospects. The book lays flat when opened to any page for easy reference when you are using the software templates with your personal computer.

Click on the tabs above to see the table of contents, read the author's preface to the book about the case for put and call option writing, see sample calculations for covered call writing, put option writing and put/call combination writing, learn important terms about option writing, and read about the author.

Your satisfaction is guaranteed or your money refunded upon return of the book in original condition within seven days of receipt.

Order online with your credit card through PayPal by clicking on the button below or send a check payable to Arrow Publications to the address below. Major credit cards accepted.

Arrow Publications

P.O. Box 19464

Fountain Hills, AZ 85269-9464

© 2014 Arrow Publications

If you have questions about this book, please feel free to

send an e-mail.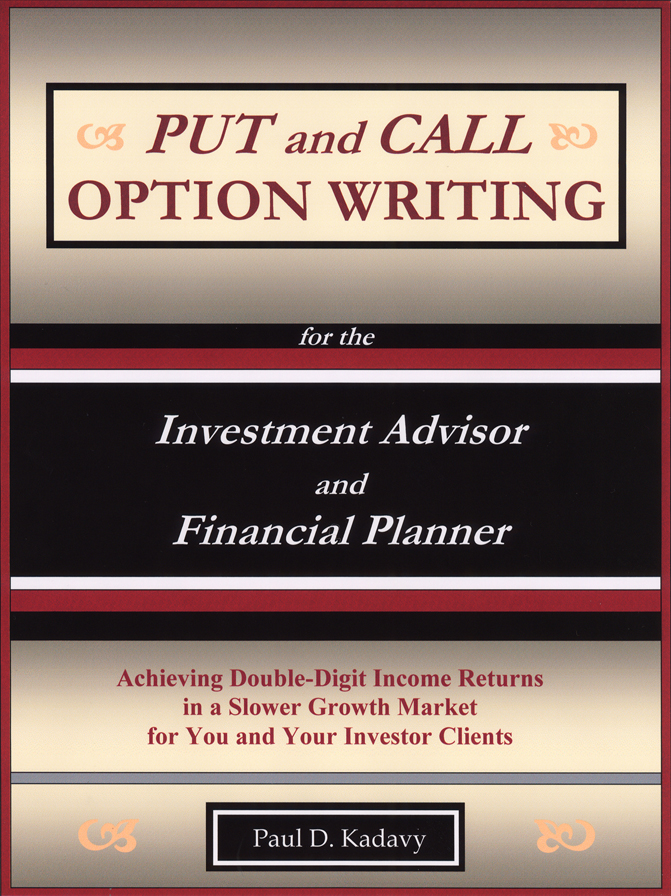 Click on the image below to

see a larger picture of the cover

CLIENT/PROSPECT

BOOKLETS

The full text of these two booklets is contained in the above book. Copies of the booklets, designed for marketing option writing investment services to clients and prospects, are available separately. They can be customized to suit the requirements of your broker/dealer's compliance department. Click on either of the booklet images for more information.